Dr. H. Ukani
201-2502 St Johns Street
Port Moody, BC V3H 2B4
Phone: (604) 931-1893
Monday-Thursday 9 a.m.–4 p.m.Friday 9 a.m.–12 p.m.

Tummy Tuck
Royal College-certified plastic surgeon Dr. H. Ukani performs abdominoplasty, often called a tummy tuck, to help people from Vancouver, Surrey, Langley, Abbotsford, and other areas near Port Moody, BC, feel more comfortable and confident. This procedure is a comprehensive and highly effective choice for women and men who are bothered by excess fat, skin, or loose muscles in the abdomen. These concerns can be caused by a number of factors, including weight fluctuations and pregnancy. Dr. Ukani customizes the details of each procedure, taking time to talk at length with patients and working with them to create the results they deserve.
If you'd like to learn more about how tummy tuck surgery with Dr. Ukani can rejuvenate your silhouette, request a consultation using our online form, or give the office a call at (604) 931-1893.
How Do I Know If I Am a Good Candidate for a Tummy Tuck?
Tummy tuck surgery by Dr. Ukani is popular with men and women from all walks of life who are dissatisfied with the appearance of their abdomens. However, the surgery is not a good match for patients who are significantly overweight. Dr. Ukani advises these patients to commit to a healthy lifestyle prior to undergoing the procedure. Tummy tuck surgery can correct 3 main concerns:
Loose, sagging skin which can't be remedied by diet or exercise
Localized fat deposits that don't respond to a healthy lifestyle
Weakened or loose abdominal muscles
Dr. Ukani tailors each abdominoplasty to address the complete needs of the patient, making tummy tuck surgery a popular option for a wide variety of people. Your tummy tuck surgery may include liposuction to remove excess fat in surrounding areas such as the hips.
How Much Does a Tummy Tuck (Abdominoplasty) Cost in Metro Vancouver, BC?
In Port Moody, BC, the cost for tummy tuck surgery varies between patients depending on the specifics of the procedure. You will be given a specific estimate during your consultation. We recommend choosing your plastic surgeon on qualifications and experience instead of price. For optimal safety and the best possible results, it's important to choose a Royal College-certified plastic surgeon who is highly experienced in abdominoplasty like Dr. Ukani.
Why Exercise Won't Always Flatten Your Tummy
Consistent exercise and a sensible diet are essential for having a healthy, attractive body, but limitations exist. Many women end up with lax skin and protruding abdominal muscles after pregnancy. Once the skin is stretched to the point where it has lost elasticity and the abdominal muscles have separated (a condition called diastasis recti), there is nothing you can do on your own to restore the firm, flattened look you want. Your plastic surgeon must surgically remove the excess skin and repair the abdominal muscles.
Tummy Tuck vs. Liposuction
Patients often are unsure about whether they need a tummy tuck or liposuction to improve their abdominal area. Dr. Ukani will perform a physical exam during your consultation to determine which procedure is best suited to your unique needs. He often uses liposuction to put the finishing touches on a tummy tuck by removing fat from the hips or waist.
| Improvements | Tummy Tuck | Liposuction | Tummy Tuck With Liposuction |
| --- | --- | --- | --- |
| Tighten Loose Skin | Yes | No | Yes |
| Repair Ab Muscles | Yes | No | Yes |
| Remove Fat | Minimal | Yes | Yes |
| Contour Waist | Yes | Yes | Yes |
Can I Safely Combine Other Procedures With My Tummy Tuck Surgery?
In addition to liposuction, Dr. Ukani frequently combines tummy tuck surgery with breast enhancement procedures, such as breast augmentation, breast lift, and breast reduction for a more transformative result. Performing multiple procedures at the same time is called a mommy makeover. Dr. Ukani takes an active role in the decision-making process and enjoys helping patients reveal the most beautiful versions of themselves.
Your Tummy Tuck Procedure
Tummy tuck surgery is a highly customized, and Dr. Ukani adapts his surgical technique to suit each patient's individual needs. In general, the surgery, which he performs while the patient is under general anesthesia, begins with an incision that extends from hip to hip, just above the pubic area. The resulting scar is typically easily concealed by clothing and swimwear.
Once he makes the incision, Dr. Ukani removes and repositions excess fat. If needed, he also surgically tightens abdominal muscles that have been weakened or displaced. Finally, he removes excess skin and redrapes remaining skin for a smooth, taut contour. He may also reposition the navel for a natural-looking appearance. He then closes the incision, and the patient is moved to a private recovery area.
What Is the Difference Between a Full Tummy Tuck and a Mini Tummy Tuck?
A mini tummy tuck is a modified version of the full tummy tuck that is appropriate in a select few cases. The best candidates for the mini tummy tuck are concerned about excess skin below the belly button only and do not require the repair of abdominal muscles. This procedure involves one short incision above the pubic area and does not reposition the belly button.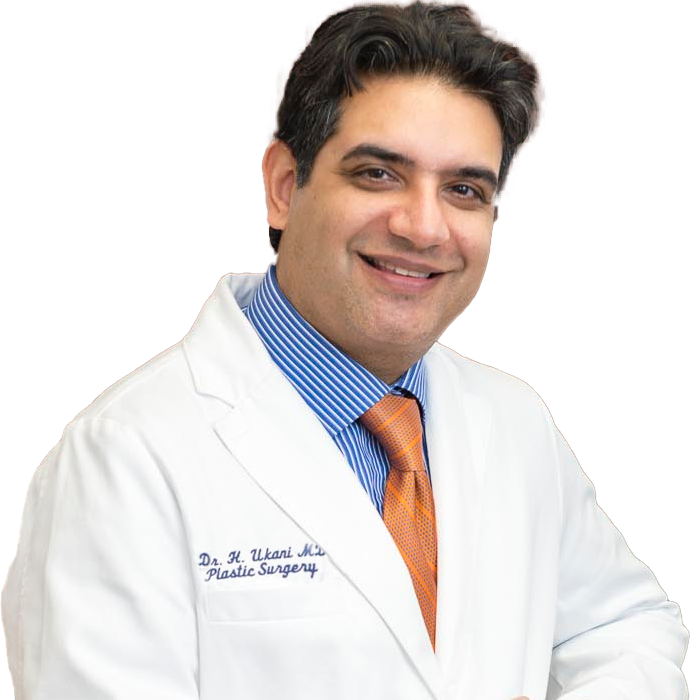 Dr. H. Ukani
Dr. H. Ukani's extensive education and years of practical experience make him one of the foremost plastic surgeons in the Vancouver area. His ongoing training keeps him at the leading edge of both cosmetic and reconstructive plastic surgery, and he looks forward to helping you fulfill your aesthetic goals.
Credentials You Can Trust

Preparing for Your Tummy Tuck
For optimal recovery and results, it's helpful to prepare for your tummy tuck surgery. Here are some useful tips:
Fill and pick up your prescription medication.
Schedule at least 2 weeks off from work.
Arrange for someone to help you at home with meals, self-care, children, and pets for the first 5 to 7 days.
Prepare your recovery area with the following:

A quiet, comfortable place to rest and sleep propped up such as in a recliner or with extra pillows.
Cozy blankets.
Entertainment such as television, books, or podcasts.
A side table within easy reach for drinks, your cell phone, and other essentials.

Ensure you have loose, elastic waist pants and comfortable tops that pull over your head.
Stock your home with healthy food and drinks, toiletries, and other necessities.
What Can I Expect After a Tummy Tuck?
Tummy tuck patients awaken to find that their incisions have been dressed and bandaged. Surgical drains may also be in place to prevent the accumulation of fluid. Dr. Ukani provides patients with thorough instructions for caring for themselves and their incisions following surgery.
How Long Is Recovery From a Tummy Tuck?
You will need to spend around 2 weeks recuperating at home. Prior to your procedure, Dr. Ukani provides you with a detailed plan of what you can expect and how you can effectively care for yourself during the recuperation period. Although no 2 tummy tuck surgeries are alike and your own recovery may vary, the following timeline describes a typical presurgical and recovery experience.
Day Before Surgery
Fill pain medication prescriptions.
Set up a recovery space with all your essentials, including medication, pillows, ice packs, and post-op instructions.
Make sure you have someone ready to drive you home from surgery and stay with you for a couple of days after surgery.
Wrap up any lingering work details. You will need to recover at home for about 2 weeks.
Night Before Surgery
Follow your pre-surgery instructions, including not eating or drinking.
Get a good night's sleep so you're well-rested before surgery.
If you feel anxious, meditating before going to bed may help.
24 Hours After Surgery
Rest as much as possible as you may feel groggy from the anesthesia and pain medication.
Get up and walk around every few hours to prevent blood clots. While resting, move your feet and legs frequently.
Rest and sleep in a recliner or propped up with several pillows to keep from putting tension on your incisions. These positions also make it easier for you to get up when necessary.
First Week After Surgery
Expect to have some pain, swelling, and bruising. You can control discomfort with pain medication and ease swelling with cold compresses.
You may have difficulty walking fully upright, especially if your abdominal muscles were tightened during the procedure. This improves progressively over the next couple of weeks.
Do not lift anything heavy, bend over, or engage in strenuous activity for at least 6 weeks.
Second Week After Surgery
Stay lightly active to reduce the risk of blood clots. Short, light walks are effective.
Most discomfort gradually subsides this week, although swelling persists.
You may be able to return to nonstrenuous work after 2 weeks.
2 Months After Surgery
Your incisions should be healed, leaving red or purple raised scars that will eventually flatten and fade to pink over the coming months.
The swelling is mainly resolved.
You may resume exercise and most regular activities.
6 Months After Surgery
Enjoy your results! Most post-surgical swelling is gone, activity restrictions are lifted, and you can see your taut, contoured midsection.
Although your tummy tuck scar is easily concealed by underwear and swim bottoms, it will continue to fade and flatten for about a year after surgery.
How Do You Maintain Tummy Tuck Results?
Your results can last years if you maintain a steady weight and stay healthy and active. Pregnancy or significant weight fluctuations following surgery may necessitate additional surgery to repair the abdomen
Tummy Tuck FAQ
Because tummy tuck surgery is such a popular procedure, Dr. Ukani has fielded countless questions about it over the years. Below are answers to some of the questions he hears most often.
Is tummy tuck surgery safe?
While considered major surgery, abdominoplasty is considered safe when performed by a Royal College-certified plastic surgeon on a properly screened patient in a certified facility.
How painful is an abdominoplasty?
Moderate pain is common the first few days after surgery. Pain medication and ice packs ease the discomfort, which gradually abates during the first couple of weeks.
Can a tummy tuck get rid of stretch marks?
Yes, a tummy tuck can get rid of stretch marks, but only those that are on the skin that is removed. Usually, this means stretch marks that lie below the belly button. Stretch marks above the belly button usually end up below it after surgery and can then be hidden by underwear.
Will I get a new bellybutton with a tummy tuck?
Your bellybutton is repositioned during a tummy tuck, but it is not a new bellybutton. During a tummy tuck, your surgeon makes one horizontal incision low on your tummy and another around your bellybutton to release it from the surrounding skin. After excess belly skin is removed, the remaining skin is pulled down to the incision line and a new, aesthetically pleasing opening is made for your bellybutton.
Does a tummy tuck always include liposuction?
No, liposuction is not necessary if your concerns are limited to excess, loose skin in the midsection. However, liposuction can help define the contours of the waist and enhance your tummy tuck results.
How much weight will I lose with a tummy tuck?
While you may lose a few pounds after your tummy tuck, it is not a weight loss procedure. By eliminating the excess skin and tightening the abdominal muscles, a tummy tuck will likely make you look much more fit than you did before your surgery.
Is it safe to get pregnant after a tummy tuck?
It is perfectly safe to become pregnant after a tummy tuck, but if you're planning to have a baby within the next year or so, it's best to postpone your cosmetic surgery. Because the growing baby will stretch your abdominal skin and muscles out, pregnancy will likely undo any improvements you gain from surgery. Dr. Ukani recommends women wait until they are done having children to have a tummy tuck.