Dr. H. Ukani
201-2502 St Johns Street
Port Moody, BC V3H 2B4
Phone: (604) 931-1893
Monday-Thursday 9 a.m.–4 p.m.Friday 9 a.m.–12 p.m.

Breast Reduction
Breast reduction by Port Moody plastic surgeon Dr. H. Ukani helps women of all shapes and sizes find freedom, comfort, and well-being after years of struggling with the effects of large, pendulous, heavy breasts. Oversized breasts can affect much more than the way a woman looks. Her self-esteem, personal identity, and health can also be impinged. If you've struggled with the physical or emotional effects of breasts that seem too large for your frame, surgical breast reduction may be right for you.
If you'd like to learn more about how breast reduction surgery with Dr. Ukani can improve your health and happiness, request a consultation using our online form, or give the office a call at (604) 931-1893.
Are You a Good Candidate?
Good candidates for breast reduction surgery, who visit from Surrey, Coquitlam, and Burnaby, BC, are healthy adults who understand the limitations of the surgery and have specific goals in mind. Women who pursue breast reduction typically have one or more of the following concerns:
Feelings of self-consciousness or unhappiness about the size of their breasts
Breasts that appear disproportionately large
Chronic pain in the back, neck, or shoulders due to the weight of their breasts
Nipples that point downward or extend below the breast crease
Chronic or recurring skin irritation beneath the breasts
Restrictions on physical activity due to discomfort or self-consciousness
During your consultation, Dr. Ukani carefully evaluates your concerns to help you decide whether the surgery is right for you. Be sure to tell Dr. Ukani if you plan to lose a significant amount of weight or become pregnant in the future, as these events may affect the results of your breast reduction. Depending on your goals, it may be wise to postpone your surgery until you've reached your ideal weight.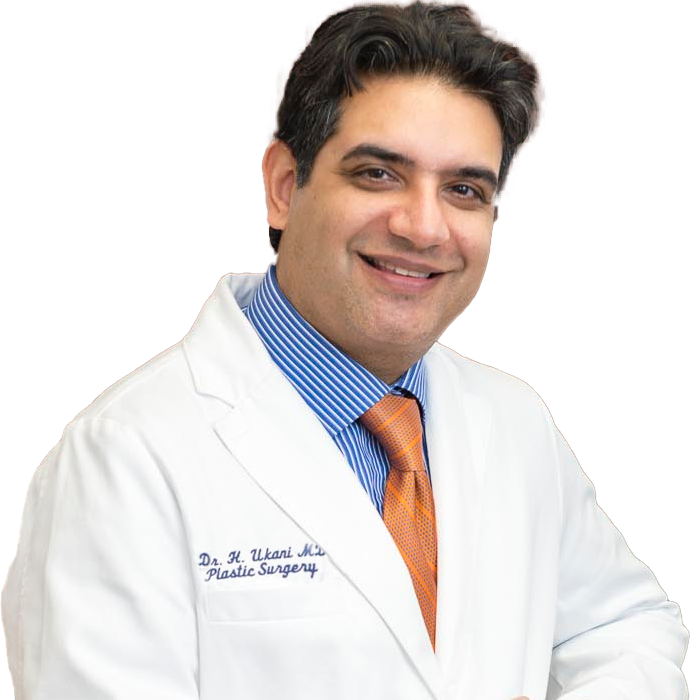 Dr. H. Ukani
Dr. H. Ukani's extensive education and years of practical experience make him one of the foremost plastic surgeons in the Vancouver area. His ongoing training keeps him at the leading edge of both cosmetic and reconstructive plastic surgery, and he looks forward to helping you fulfill your aesthetic goals.
Credentials You Can Trust

Your Breast Reduction Procedure
Dr. Ukani uses several different techniques for breast reduction surgery, and the type that you undergo depends largely on your anatomy, goals, and preferences.
Dr. Ukani uses a short-scar lollipop incision, which is made around the areola and down the breast to the crease. Once he makes the incision, he moves the nipple and areola to a higher position on the breast, and he may resize the diameter of the areola to be proportionate to the new breast size. Dr. Ukani lifts and shapes the underlying fat and breast tissue, and he removes excess tissue via liposuction or surgical excision. He may also cut away excess loose skin and redrape the existing skin for a smooth appearance.
How do I know whether I need a reduction or a lift?
If you want smaller, lighter, uplifted breasts with nipples that face forward rather than downward, a breast reduction may be right for you. If you want to correct sagging, drooping, and downturned nipples but would like to maintain the size of your breasts, you may be a better candidate for a breast lift.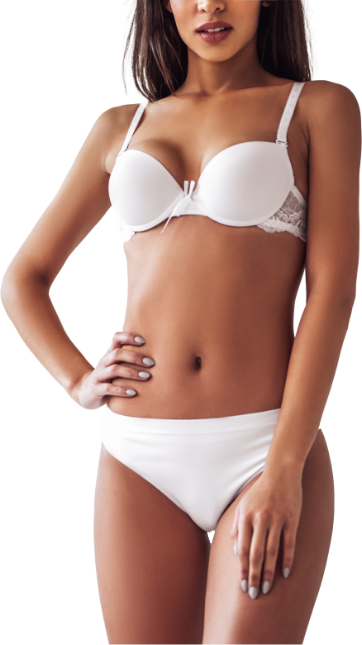 Model
Your Recovery
Recovery following breast reduction surgery is somewhat different from other breast enhancement procedures, such as breast augmentation, because reduction surgery does not involve the muscle. Following surgery, the reduced breasts are bandaged with sterile dressing. Patients are advised to sleep on their backs and keep the breasts supported during the initial healing process. At a follow-up appointment, the dressings are removed and the patient is issued a surgical bra which is generally worn for about a month before transitioning to a conventional bra.
Most patients require several weeks away from work and other everyday activities, although your own timeline may vary depending on the specifics of your surgery. Women who have more physically demanding jobs will require more downtime, and all breast reduction patients must resume exercise slowly. Dr. Ukani provides each patient with a detailed, customized set of postoperative instructions to help facilitate ideal healing.
The best way to prolong the results of breast reduction surgery is by sticking to a healthy lifestyle and maintaining a steady weight. Significant weight gain or loss, including during pregnancy, can alter results and potentially require revisionary surgery.