Dr. H. Ukani
201-2502 St Johns Street
Port Moody, BC V3H 2B4
Phone: (604) 931-1893
Monday-Thursday 9 a.m.–4 p.m.Friday 9 a.m.–12 p.m.

Eyelid Surgery
Our eyes reveal a lot about us, expressing our emotions and reflecting our years. Blepharoplasty, often called eyelid surgery, by Port Moody plastic surgeon Dr. H. Ukani can refresh this delicate area of the face, restoring a well-rested, alert look to eyes that appear tired, puffy, or aged. Upper eyelid surgery provides patients from Coquitlam and Surrey, BC, and surrounding areas, wonderful results on its own or as a complement to other cosmetic treatments.
If you'd like to learn more about how eyelid surgery with Dr. Ukani can brighten and rejuvenate your face, request a consultation using our online form, or give the office a call at (604) 931-1893.
Are You a Candidate for Eyelid Surgery?
The best candidates for eyelid surgery are healthy men and women who wish to look refreshed and more youthful. Dr. Ukani only performs blepharoplasty for the upper eyelids. He customizes the procedure to address a variety of concerns, including:
Fatty deposits responsible for a puffy appearance
Sagging or lax upper eyelid skin
Improving peripheral vision when obstructed by excess skin
During your consultation, Dr. Ukani carefully evaluates the eye area. Depending on your goals, he may suggest alternative or complementary options, such as injectable fillers to create your ideal result. Dr. Ukani thoroughly explains the specifics of your procedure prior to your surgery date.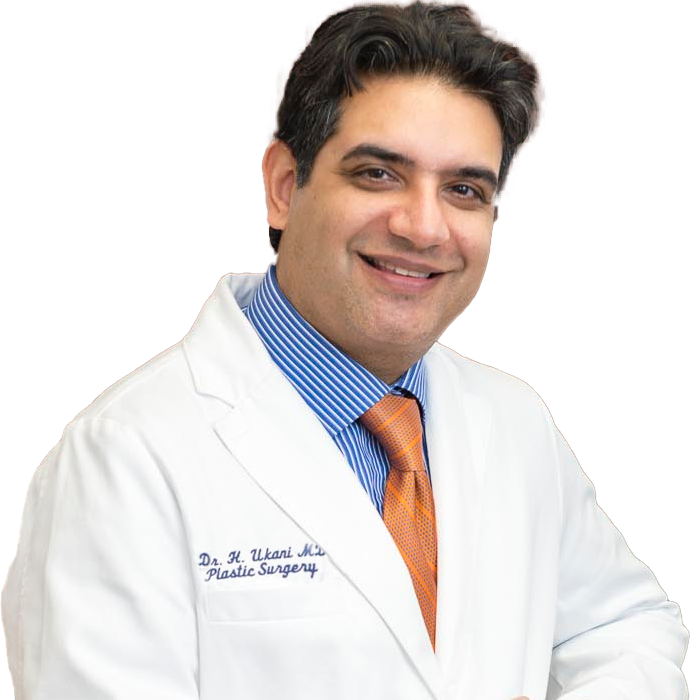 Dr. H. Ukani
Dr. H. Ukani's extensive education and years of practical experience make him one of the foremost plastic surgeons in the Vancouver area. His ongoing training keeps him at the leading edge of both cosmetic and reconstructive plastic surgery, and he looks forward to helping you fulfill your aesthetic goals.
Credentials You Can Trust

Your Eyelid Surgery Procedure
Dr. Ukani performs upper eyelid surgery using an incision made along the natural crease, which typically heals as a discreet scar. Once the incision has been made for each eyelid, he removes underlying fat and tissue as needed. Dr. Ukani removes excess skin for a smooth, natural-looking contour. He may also surgically tighten the underlying muscles. Once he is satisfied with the placement of the remaining tissue, Dr. Ukani closes the incisions with sutures.
Your Eyelid Surgery Recovery
The Vancouver blepharoplasty patients of Dr. Ukani are generally pleased to see that their results seem to transform their faces, giving them a more youthful, alert appearance. Blepharoplasty is an outpatient procedure, although patients are advised to rest at home for several days with their heads elevated.
Most eyelid surgery patients feel well enough to return to work after about 10 days. Although bruising and discolouration may persist, these effects can usually be adequately covered by makeup. Vigorous exercise and other activities that raise blood pressure should be delayed for about 3 weeks. Dr. Ukani provides each patient with a more specific timeline based on the particulars of his or her procedure.
By closely following Dr. Ukani's postoperative instructions and practicing good sun protection habits, patients can maintain the results of their procedures for many years. Although the procedure delays the aging process, it does not stop it completely. Patients may wish to periodically "touch up" their results with the help of non-surgical treatments such as BOTOX Cosmetic® or injectable fillers.