Dr. H. Ukani
201-2502 St Johns Street
Port Moody, BC V3H 2B4
Phone: (604) 931-1893
Monday-Thursday 9 a.m.–4 p.m.Friday 9 a.m.–12 p.m.

Facelift
Experienced Port Moody plastic surgeon Dr. H. Ukani performs facelift surgery to help men and women from Surrey, Abbotsford, and Vancouver, BC, and surrounding communities, love the faces they see in the mirror. Lines, wrinkles, and skin laxity can be some of the earliest indicators of age. Although a facelift won't make you look as you did 30 years ago, it can create age-appropriate, natural-looking results that enhance your own unique features.
If you'd like to learn more about how facelift surgery with Dr. Ukani can refresh and revitalize your face, request a consultation using our online form, or give the office a call at (604) 931-1893.
Who Is a Good Candidate for a Facelift?
Although facelift surgery is highly effective at treating many visual signs of aging, it's not appropriate for everybody. Good candidates for the surgery are healthy adults who would like to see long-term improvement of some or all of the following concerns:
Loose skin or excess fat around the chin
Lost muscle tone in the lower face and neck that creates the appearance of jowls
Fat that has been displaced or moved over time
Creases that run along the sides of the nose to the corners of the mouth, called nasolabial folds
Creases below the eyes
Sagging or skin laxity in the midface region
Although some of these concerns may be treated with non-surgical intervention, such as BOTOX Cosmetic® or injectable dermal fillers, the results of a face lift are more comprehensive and can last for many years. During your consultation, Dr. Ukani carefully evaluates your face and your overall health, working with you to develop a treatment plan that safely and effectively addresses each of your concerns. He may also recommend combining surgery and non-surgical options.
How Much Does a Facelift Cost in BC?
Facelift is a highly customized procedure; therefore, the cost at our Port Moody practice varies. You will be provided with a personalized quote during your consultation. It's important to consider a plastic surgeon's training and experience in addition to cost. For optimal safety and natural-looking results, be sure to choose a Royal College-certified plastic surgeon like Dr. Ukani who is highly experienced in facelift surgery.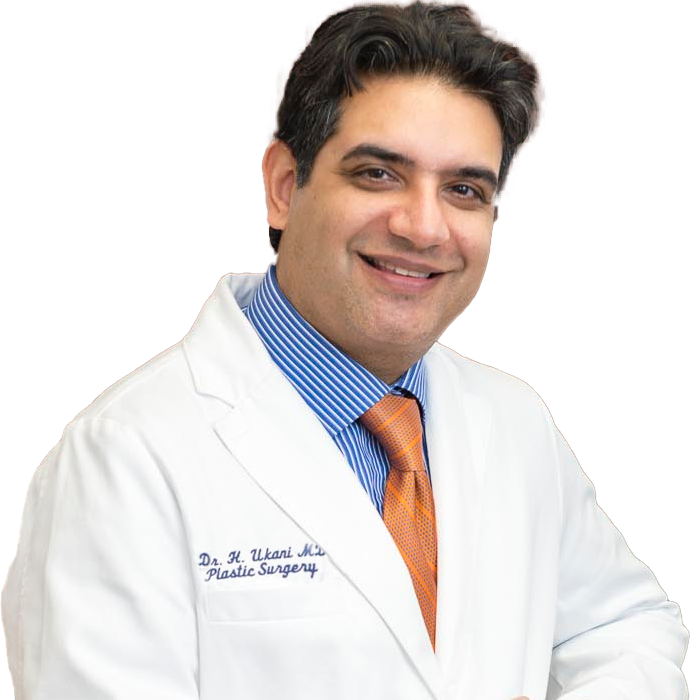 Dr. H. Ukani
Dr. H. Ukani's extensive education and years of practical experience make him one of the foremost plastic surgeons in the Vancouver area. His ongoing training keeps him at the leading edge of both cosmetic and reconstructive plastic surgery, and he looks forward to helping you fulfill your aesthetic goals.
Credentials You Can Trust

What Is the Difference Between a Facelift and a Mini Facelift?
The traditional facelift rejuvenates moderate to significant aging of the lower 2/3 of the face and the neck. The mini facelift is a less-invasive procedure designed to address early signs of aging of the lower face, jawline, and neck. It involves smaller incisions and shorter recovery, and the results do not last as long as a traditional facelift.
How Is Facelift Surgery Performed?
Dr. Ukani typically performs facelift surgery as an outpatient procedure; although, depending on the specifics of your surgery, it may require an overnight stay. It generally requires an incision beginning at the temples and running down the hairline, around the ears, and ending near the lower scalp. Once healed, this incision creates a very discreet scar that is concealed by most hairstyles. Other incision options are available depending on your anatomy and goals. During your consultation, Dr. Ukani carefully explains his preferred technique and suggestions for your procedure, ensuring that you fully understand the process and your likely results.
After the incision is made, Dr. Ukani removes or repositions underlying fat and tissue, creating smooth, youthful-looking facial contours. Depending on your goals, eyelid surgery or another type of facial rejuvenation may be performed at the same time as facelift surgery. Excess skin is removed and the remaining skin is redraped for a toned appearance.
What Should I Expect After a Facelift?
Some discomfort is to be expected and is manageable with prescription medication. It is common to have bruising and swelling, especially near the incisions. Light activity, such as walking, is a good way to prevent blood clots, but patients should not force themselves to do anything before they feel ready. Dr. Ukani provides each patient with detailed, specific postoperative instructions for optimal healing.
How Do You Sleep After a Facelift?
Patients should keep their heads upright for several days, even during sleep, to facilitate good healing. It's important to stock the bed with lots of comfortable pillows or choose a favorite recliner to sleep in for the first few nights.
How Long After Facelift Surgery Will I Look Normal?
Most facelift patients feel comfortable going in public within 2 to 3 weeks, although preliminary results are often clear after several days. The final facelift results may take up to 6 weeks to become fully apparent.
When Can I Go Back to Work After a Facelift?
Many patients take about 2 weeks off work, although each person's timeline may vary depending on overall health and the specifics of the surgery.
How Long Do the Results of a Facelift Last?
Although a facelift can create truly stunning results, it's important to remember that it does not stop the aging process. Over the years, patients may notice skin laxity, wrinkles, and other signs of aging beginning to reappear. Although some patients may choose to undergo a second surgery, many people can maintain their results with periodic "touch-ups" with non-surgical treatments, such as dermal fillers. Dr. Ukani evaluates each of his facelift patients as individuals, working with them to maintain their beautiful results for as long as possible.