Dr. H. Ukani
201-2502 St Johns Street
Port Moody, BC V3H 2B4
Phone: (604) 931-1893
Monday-Thursday 9 a.m.–4 p.m.Friday 9 a.m.–12 p.m.

Ear Surgery
Prominent ears that appear to project too far from the head can be a great source of stress for both children and adults, affecting academic or job performance and self-esteem. Otoplasty, also called cosmetic ear surgery, by Port Moody plastic surgeon Dr. H. Ukani, is a relatively straightforward procedure that can balance the ears with the rest of the face, creating a harmonious outcome that can significantly improve a patient's well being.
If you'd like to learn how Dr. Ukani can improve your life with cosmetic ear surgery (sometimes called ear pinning), request a consultation online, or call our office at (604) 931-1893.
Are You a Candidate?
Dr. Ukani can safely perform otoplasty on most children and adults who visit from Surrey, Coquitlam, and Burnaby, BC, and other nearby communities. Special considerations must be made for young patients, especially in regards to their ability to follow instructions for healing, as well as their willingness to communicate openly and to express their desires regarding the surgery.
Good candidates for otoplasty include generally healthy people who do not smoke and have realistic goals for their surgical outcomes. During the consultation, Dr. Ukani carefully evaluates the ears to determine whether otoplasty is the best course of action.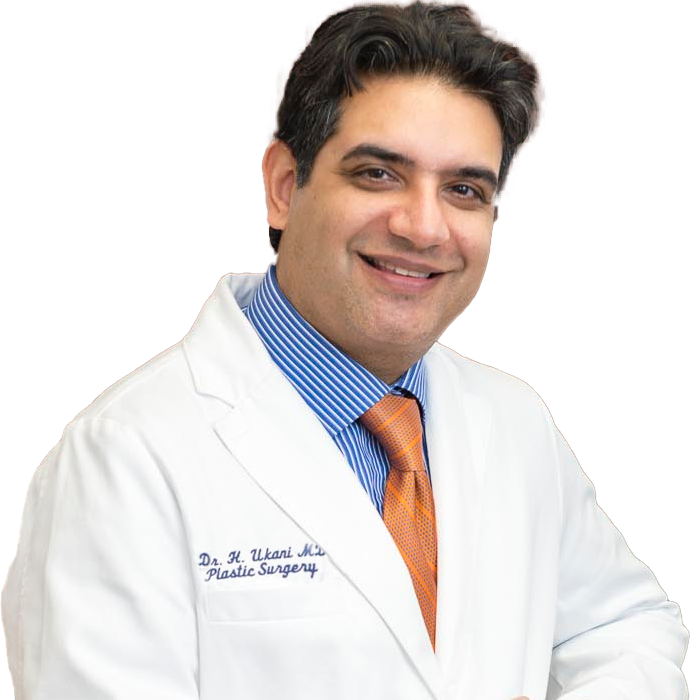 Dr. H. Ukani
Dr. H. Ukani's extensive education and years of practical experience make him one of the foremost plastic surgeons in the Vancouver area. His ongoing training keeps him at the leading edge of both cosmetic and reconstructive plastic surgery, and he looks forward to helping you fulfill your aesthetic goals.
Credentials You Can Trust

Your Ear Surgery Procedure
Once anesthesia is administered, he makes a very discreet incision along the back of the ear and reshapes the cartilage. He uses internal sutures to hold the cartilage in place as it heals in its new position.
The incisions are then closed with removable sutures, and the ears are bandaged.
Your Recovery
Although surgical dressings may hide the ears for several days, the results of otoplasty are immediately visible.
Ear surgery is well tolerated, although soreness and discomfort may require prescription medication for up to 48 hours following surgery. Swelling and bruising typically resolve within 10 days, and special care must be taken to not disturb the incisions during this initial healing process.
Barring any unforeseen trauma, the results of otoplasty can last for life. Closely following Dr. Ukani's postoperative instructions can greatly enhance the outcome, resulting in beautiful, well-proportioned ears.