Dr. H. Ukani
201-2502 St Johns Street
Port Moody, BC V3H 2B4
Phone: (604) 931-1893
Monday-Thursday 9 a.m.–4 p.m.Friday 9 a.m.–12 p.m.

Breast Augmentation FAQ
Women considering breast augmentation surgery visit us from the metro Vancouver area including Coquitlam, Surrey, and Burnaby, BC — and they all come with many questions. In order to streamline your research process, we've provided answers to some of the most common questions we hear about breast augmentation surgery in Port Moody from this diverse group of patients.
If you'd like to learn more about breast augmentation with Dr. H. Ukani, request a consultation using our online form, or give the office a call at (604) 931-1893.
Breast Augmentation

Before & After Photos
WARNING:
This feature contains nudity. Please click OK to confirm you are at least 18 years of age and are not offended by such material.
How do I know which breast implant size is right for me?
Although you've probably had an idea of your perfect size in your mind for some time now, it's important to understand that your ultimate breast augmentation outcome depends on a few different factors, of which size is only one. Keep in mind that implants are measured in cubic centimeters, or cc, rather than bra cup sizes. This is because cup sizes can vary quite a bit between bra manufacturers, and using cc is much more precise.
During your consultation, we encourage you to bring in "goal photos" of the size and look you'd like to achieve. You can also preview your results with the Crisalix 3-D simulator, a special system that renders a 3-D image of your body to allow you to virtually "try on" various implant options. These resources will help both you and Dr. Ukani understand how implants of different sizes and shapes will work for you.
Glimpse Your Potential
See your results before surgery with Crisalix. This remarkable 3-D simulator lets you preview implant options on your own body for a realistic idea of your potential outcome. Schedule your consultation today and visualize your results with Crisalix.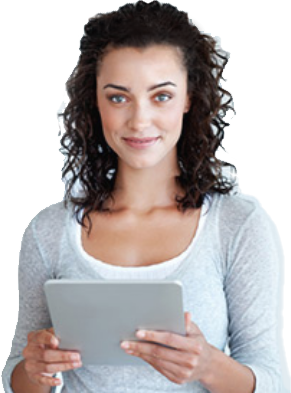 Model
Are silicone or saline implants better?
Different implants are more appropriate for different patients, so there is no universally superior choice. Dr. Ukani thoroughly explains your breast implant options during your consultation. Both silicone and saline devices have their own unique advantages:
Saline implants generally require smaller incisions because Dr. Ukani inserts them in the breasts while they're still empty and fills them once they have been placed. Many patients are also attracted to the idea of a sterile saltwater filling.
Silicone implants look and feel more natural than saline. They're also less likely to show visible rippling, and they aren't as prone to certain other complications. Thanks to Dr. Ukani's use of the Keller Funnel™, he can place silicone implants through smaller incisions.
The topic of saline versus silicone is an important one to discuss during your consultation. Dr. Ukani can guide you toward the best choice for you.
The Keller Funnel

Dr. Ukani prefers to use the Keller Funnel™, a device that makes it easier and safer to place silicone implants. Shaped like a pastry bag, the Keller Funnel allows the surgeon to mimimize incision length and avoid direct contact with the implant, reducing the risk of infection and complications such as capsular contracture.
Is breast augmentation or breast lift surgery right for me?
This is a common question among women who know they want their breasts to look better but aren't sure how to bring that about. Breast augmentation surgery increases the size of the breasts. Breast lift surgery reduces sagging, a common concern after aging, pregnancy, or weight loss. Many patients want to both reduce sagging and boost size, so Dr. Ukani frequently combines the 2 surgeries into a simultaneous augmentation-lift. He can help you decide which option will give you the best results.
How can I speed up my recovery after breast augmentation?
There are many things you can do at home to make sure your recovery is quick, uneventful, and relaxing. Here are some of Dr. Ukani's helpful recommendations:
Fill all of your prescriptions in advance so you won't need to make a trip to the pharmacy after surgery.
Arrange some extra help with childcare, chores, and errands for at least several days after surgery.
Stock up on essential items, such as nutritious, easy meals and toilet paper before surgery so you're not tempted to drive.
Ensure you have several sets of clean, comfortable pajamas or yoga pants and button-down tops on hand.
Pick up a few books or make a list of good movies to keep yourself entertained.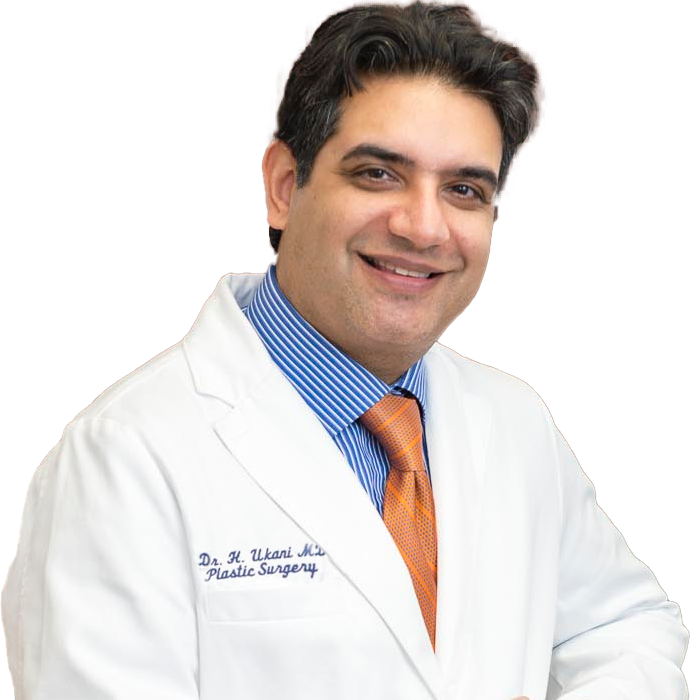 Dr. H. Ukani
Dr. H. Ukani's extensive education and years of practical experience make him one of the foremost plastic surgeons in the Vancouver area. His ongoing training keeps him at the leading edge of both cosmetic and reconstructive plastic surgery, and he looks forward to helping you fulfill your aesthetic goals.
Credentials You Can Trust

What will my breast augmentation scars look like?
The appearance of your scars depends on the type of incisions you had. Here's what to expect:
Inframammary incision: The most common incision, the inframmary incision is made along the crease where the underside of the breast meets the body. Once healed, it stays well-hidden under clothes, underwear, and even bikini tops.
Periareolar incision: This incision traces the lower edge of the areola and fades into the natural color delineation between the areola and the rest of the breast skin.
Transaxillary incision: This incision is made in the armpit, so it leaves no scar on the breast at all—only a short mark well-hidden in a natural crease.
Regardless of which option used for your breast augmentation, with proper care after surgery, your incisions are likely to fade to flat, discreet scars.
Does Dr. Ukani use surgical drains with breast augmentation surgery?
No. Although some other cosmetic procedures such as tummy tuck surgery often require temporary drains after surgery, breast augmentation does not. Your breasts will be bandaged and dressed, and you will not have drains.
I've heard that breast implants need to "drop" after surgery. What does that mean?
"Dropping" refers to the process of implants softening and settling into their final positions. It takes time for the skin, muscle, and surrounding tissue to expand in order to fully accommodate implants. Therefore, for the first few months after surgery, your implants may appear high on your chest and feel firm and tight. This is completely normal. As time goes by, your body will adjust and your implants will gradually drop to lower, more natural-looking positions on your chest.
Can you leave breast implants in forever?
By caring for yourself properly after surgery, you can expect your results to last for many years. However, implants aren't meant to be permanent. Today's devices are more durable and resilient than ever, and you can reasonably anticipate your results lasting for more than a decade before your implants begin to weaken and lose their shape. At this point, you may wish to undergo revisionary surgery with new implants or have your implants removed altogether. The choice is yours!