Dr. H. Ukani
201-2502 St Johns Street
Port Moody, BC V3H 2B4
Phone: (604) 931-1893
Monday-Thursday 9 a.m.–4 p.m.Friday 9 a.m.–12 p.m.

Breast Augmentation
Every year, hundreds of thousands of women choose to enhance their feelings of femininity and their confidence with breast augmentation (boob job). Women from Langley, Abbotsford, and throughout metro Vancouver, BC, have come to trust Port Moody plastic surgeon Dr. H. Ukani for beautiful, natural-looking breast augmentation results.
If you'd like to learn more about breast implants and you live in the Vancouver area, request a consultation using our online form, or give the office a call at (604) 931-1893.
Breast Augmentation

Before & After Photos
WARNING:
This feature contains nudity. Please click OK to confirm you are at least 18 years of age and are not offended by such material.
What Is Breast Augmentation Surgery?
Breast augmentation, also called breast enlargement, is a plastic surgery procedure that enhances the size and shape of the breasts with implants placed behind the natural breast tissue.
How Much Does Breast Augmentation Cost in Metro Vancouver, BC?
The cost for breast augmentation (boob job) at our Port Moody, BC, practice varies because Dr. Ukani personalizes every procedure he performs. The actual price depends on many factors, including the specific breast implants chosen, the complexity of the procedure, and whether it will be combined with other procedures such as a breast lift. For optimal safety and the best possible results, it's important to choose a Royal College-certified plastic surgeon with extensive breast augmentation experience like Dr. Ukani.
Who Is a Good Candidate for Breast Augmentation?
There are many reasons for considering breast augmentation. Maybe you have never been satisfied with the size of your breasts, or perhaps you have experienced changes in your breast size due to age, pregnancy, or weight fluctuations. In addition to making your breasts bigger, breast augmentation can also:
Improve breast shape by filling out the upper breast and cleavage
Increase symmetry between the breasts when one is smaller than the other
Create more proportionate curves between your upper and lower body
Help you fill out bras and expand your clothing options
During the consultation, Dr. Ukani spends plenty of time with each patient, helping her define her goals and make decisions related to the surgery, such as implant type or incision location. Once he determines that a patient is a candidate, he provides a detailed overview of her specific surgery, including guidelines for good self-care both before and after the procedure.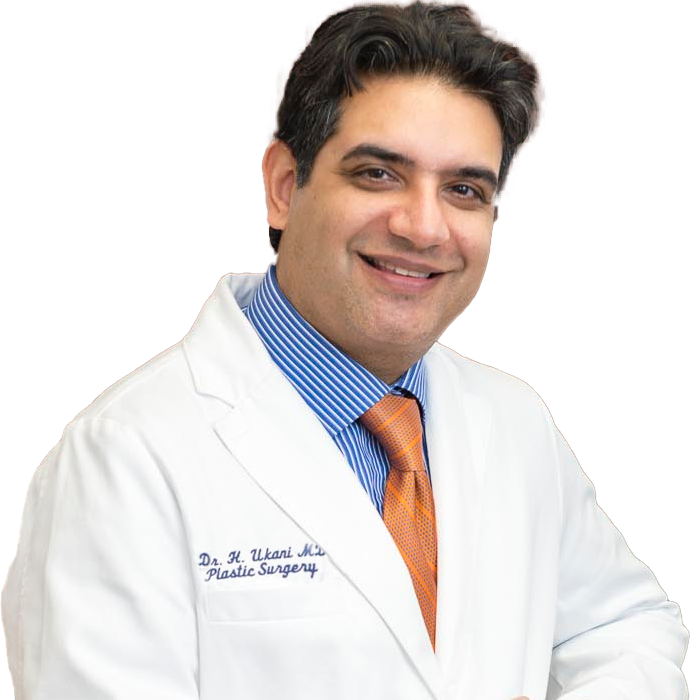 Dr. H. Ukani
Dr. H. Ukani's extensive education and years of practical experience make him one of the foremost plastic surgeons in the Vancouver area. His ongoing training keeps him at the leading edge of both cosmetic and reconstructive plastic surgery, and he looks forward to helping you fulfill your aesthetic goals.
Credentials You Can Trust

Breast Implant Options
During your breast augmentation consultation, Dr. Ukani explains your breast implant options, which include:
Implant Type
Breast implants can be filled with either saline (harmless saltwater) or silicone gel. Dr. Ukani will help you choose the one best suited to your preferences (natural feel, natural substance, etc.).
Size
Dr. Ukani will consider your cosmetic goals, body proportions, current volume of breast tissue, lifestyle, and other factors when recommending an implant size.
Shape
Breast implants can be round or anatomically (teardrop) shaped.
Profile
Breast implant profile specifies the degree to which the implant projects from the chest and generally ranges from low to high.
Low-profile implants have the widest base and are best for women with broad chests or who want a very subtle enhancement.
Moderate-profile implants are the most common choice because they enhance the upper breast and cleavage and provide a natural look.
High-profile implants have the narrowest base and provide the most significant enhancement of the cleavage area and the most dramatic results.
Breast Augmentation Incision Placement
Dr. Ukani offers the following breast augmentation incision options, each with its own advantages:
Inframammary incision: in the crease beneath the breast
Periareolar incision: along the lower border of the areola
Transaxillary incision: in a natural crease of the armpit
Will I Have a Noticeable Scar?
Dr. Ukani makes every effort to minimize incision size and resulting scarring. He will use the incision location that fits best with your body, the type of implant you choose, and your cosmetic goals. If you are also having a breast lift, you may have additional incision placement options. Regardless of where he places the incision, Dr. Ukani works to keep all incisions as fine and discreet as possible. He instructs patients on proper incision care to help the resulting scars be as inconspicuous as possible.
Breast Implant Placement
Breast implants are typically placed in one of the following areas:
Subglandular placement: over the chest muscle
Submuscular placement: under the chest muscle
Dual-plane placement: partially under the muscle
Dr. Ukani prefers dual plane implant placement because it provides optimal coverage for natural-looking results. It also provides the most support for the implant to prevent sagging in the future. During your consultation, he will explain which surgical approach would best serve you, accounting for your current breast volume and implant type.
Glimpse Your Potential
See your results before surgery with Crisalix. This remarkable 3-D simulator lets you preview implant options on your own body for a realistic idea of your potential outcome. Schedule your consultation today and visualize your results with Crisalix.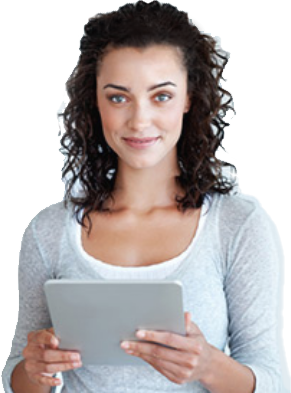 Model
3D Breast Augmentation Imaging with Crisalix
At his practice, Dr. Ukani uses Crisalix 3-D imaging software to help his breast augmentation patients gain a better understanding of their ultimate results. Crisalix turns a standard 2-D photograph into a 3-D rendering of a patient's body. This rendering will show the predicted outcome after the addition of a particular size or shape of implant, allowing doctor and patient to work together with the same goal in mind.
Is It Better To Get a Breast Lift or Implants?
Deciding on the best breast enhancement technique for you can be a challenge. If you feel torn between breast augmentation and breast lift, there are a few questions you can ask yourself to determine which is right for you.
Size: Think about the way your breasts look when you're wearing your favorite bra. Are you generally satisfied with their size? If you are, you may get the results you want from a breast lift on its own. A lift will reposition your breasts and reduce excess skin, tightening them up, improving their shape, and moving the nipples to face forward (rather than downward). They'll look great in or out of a bra.
Position: If your breasts sag only slightly, a breast lift might be overkill. A good rule of thumb is the "crease test." Take a look in the mirror. If your nipples point downward and extend past the breast crease, you're likely a good candidate for a lift. If your breasts sag to this degree and you're unhappy with their size, a combined breast augmentation and lift might be the best option.
Keep in mind that while breast implants will help the breasts appear fuller, they will not lift the breasts on their own. In fact, augmentation can make sagging worse. A breast lift is still the best choice for raising the breasts with lasting results.
How do I know if I need a lift with my breast augmentation?
Breast augmentation increases size, while a breast lift improves shape and corrects issues like sagging or drooping. If you want larger, uplifted breasts with nipples that face forward rather than downward, a combined lift and augmentation may be right for you.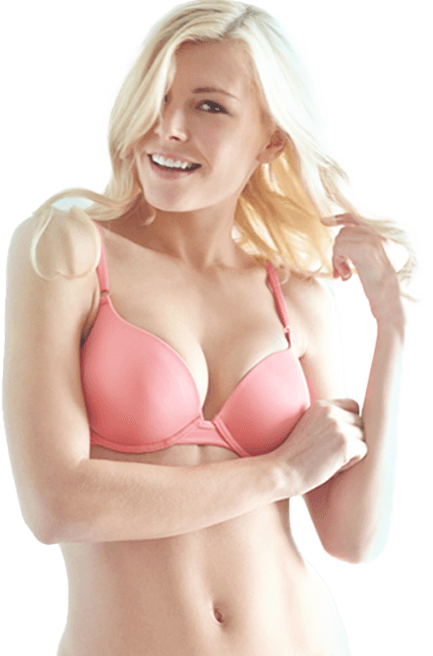 Model
Can Breast Augmentation Be Combined With Other Procedures?
Breast augmentation can be combined with other procedures such as a breast lift, liposuction, or tummy tuck. This combination of procedures is often called a mommy makeover. Dr. Ukani will help determine whether you would benefit from these and other options during your consultation.
How Is Breast Augmentation Performed?
Though the specifics of each breast augmentation procedure vary from patient to patient, most generally follow the same process.
After the patient is resting comfortably under general anesthesia, Dr. Ukani makes an incision and creates a space for the implant, called the pocket. Once the pocket is created, the breast implant is removed from its sterile packaging, washed with antiseptic solution, placed into a Keller Funnel®, and then carefully inserted directly into the pocket. The Keller Funnel is an innovative medical device that compresses the implant and allows Dr. Ukani to control its placement. This "no touch" method minimizes the risk of infection and enables Dr. Ukani to use the smallest possible incisions for silicone implants.
The Keller Funnel

Dr. Ukani prefers to use the Keller Funnel, a device that makes it easier and safer to place silicone implants. Shaped like a pastry bag, the Keller Funnel allows the surgeon to minimize incision length and avoid direct contact with the implant, reducing the risk of infection and complications such as capsular contracture.
Once both implants are placed and the desired breast size and shape are confirmed, the incisions are closed with sutures and surgical tape.
Dr. Ukani performs breast augmentation as an outpatient procedure, which means patients may return home on the same day after a period of observation.
What Can I Expect After Breast Augmentation Surgery?
Following surgery, patients notice an immediate increase in the size of their breasts. The breasts may feel high, swollen, and firm, which is normal. Over the next several months, the breasts settle into their final positions, adopting a more natural-looking appearance.
Breast Augmentation Recovery
Before your procedure, Dr. Ukani provides you with a detailed plan of what you can expect and how to care for yourself during the recuperation period. While your own recovery may vary, the following timeline describes a typical presurgical and recovery experience.
Day Before Surgery
Fill pain medication prescriptions.
Set up a recovery space with all your essentials within reach, including medication, pillows, ice packs, and post-op instructions.
Arrange for an adult friend or family member to drive you home from surgery and stay with you for the first few days after surgery.
Wrap up any lingering work details. You will need about 2 weeks off.
Night Before Surgery
Follow your pre-surgery instructions, including not eating or drinking.
Get a good night's sleep so you're well-rested before surgery.
First Day
When you return home on the day of surgery, rest as much as possible to allow the anesthesia to wear off completely.
Get up and walk around every few hours to prevent blood clots. While resting, move your feet and legs frequently to encourage circulation.
Rest and sleep in a recliner or propped up with pillows to minimize swelling and bruising.
Week 1
Expect to have some pain, swelling, and bruising. In general, discomfort is manageable with prescribed drugs.
You will need to wear the surgical bra at all times as directed.
Avoid heavy lifting, certain arm movements, and sleeping on your stomach for several weeks.
Most patients feel well enough to return to work after about 1 week, although women who have more physically demanding jobs may need additional time to rest at home.
Week 2
The discomfort gradually subsides this week, although swelling persists.
Most patients are ready to return to nonstrenuous activities and exercise after 2 weeks.
Weeks 3 to 4
Bruising and swelling fade.
The incisions are healed enough to allow you to safely submerge yourself in a swimming pool, bathtub, and the ocean.
Weeks 6 to 12
You may gradually resume strenuous exercise, heavy lifting, and most regular activities.
Your implants will settle into their beautiful, natural shape and position (drop and fluff).
At this point, you will be able to enjoy your final results.
6 to 12 Months
Your scars will continue to fade and flatten for about a year after surgery.
If you have questions or concerns at any time, feel free to call our office at (604) 931-1893.
Breast Augmentation FAQ
Are breast implants safe?
Both saline and silicone breast implants are safe when placed by an experienced and qualified plastic surgeon in an appropriately screened patient. While some patients have concerns about breast implant-associated anaplastic large cell lymphoma (BIA-ALCL) associated with textured implants or breast implant illness (BII), the vast majority of patients live happily without concerns after breast augmentation.
Will my breasts look natural after surgery?
Natural is Dr. Ukani's specialty. He can give you a subtle enhancement or a noticeable change in size while making sure your breasts look beautiful yet natural.
What's the difference between saline and silicone breast implants?
Silicone gel implants are the choice of most patients because they look and feel like natural breast tissue. These implants do cost more than saline-filled implants. Saline is a natural, more affordable implant filling that may feel firmer than silicone. These implants are filled after placement so they can be inserted through smaller incisions. Dr. Ukani can help you weigh the pros and cons of each type to help you decide which you'll be the happiest with.
Can I breastfeed with breast implants?
Most women can breastfeed with implants, although the volume of milk supply may be affected.
What if I want to remove my implants later? Is it possible to remove them without replacing them?
Yes, you can remove your breast implants without replacing them. Breasts may sag or look misshapen after implants are removed; however, so many women combine their explant surgery with breast lift surgery to address those issues.
Is breast augmentation worth it?
The vast majority of patients say, "Yes!" On RealSelf.com, the procedure has a 97% "worth it" rating. (Read some of Dr. Ukani's breast augmentation patient reviews.) After the surgery, many wish they hadn't waited so long because of how much it improves their confidence.
Can I have a breast augmentation without implants?
Fat transfer can be used to provide a very subtle increase in breast size. Liposuction is used to collect fat from areas it's not wanted such as the belly and thighs. It is then purified and carefully injected into the breasts.
Will I have to replace my implants at some point?
Breast implants aren't made to last forever; although, they typically last for a decade or more before they weaken and lose their shape. If you'd like to exchange your implants because you have concerns or want to make a change in fill material, size, or something else, Dr. Ukani can perform an elective implant exchange. Sometimes patients have their implants removed and not replaced in a procedure called explant surgery.
To learn even more about breast augmentation, check out our answers to some of the most frequently asked questions.