Dr. H. Ukani
201-2502 St Johns Street
Port Moody, BC V3H 2B4
Phone: (604) 931-1893
Monday-Thursday 9 a.m.–4 p.m.Friday 9 a.m.–12 p.m.

Liposuction
A nutritious diet and regular exercise are the foundations of a healthy lifestyle, but they're not always enough to give us the bodies we want. Sometimes, excess fat deposits can remain due to age, heredity, or other uncontrollable factors. Port Moody plastic surgeon Dr. H. Ukani performs liposuction to help people from Surrey, Coquitlam, Langley, and Burnaby, BC, address this fat once and for all, revealing the beautiful bodies they work so hard to maintain.
If you'd like to learn more about how liposuction with Dr. Ukani can improve your silhouette, request a consultation using our online form, or give the office a call at (604) 931-1893.
Are You a Candidate for Liposuction?
Liposuction is an extremely versatile procedure that Dr. Ukani can perform on many different parts of the body — but it's not for weight reduction. Good candidates for liposuction are adult men and women who are at or near healthy weights and wish to reduce stubborn fat deposits from areas such as the:
Because of liposuction's versatility, it is often performed in conjunction with other procedures, such as tummy tuck and even facelift surgery. During your consultation, Dr. Ukani carefully evaluates the area you'd like to address, taking note of your skin's elasticity and the amount of fat present. Dr. Ukani offers traditional, power-assisted, and ultrasound-assisted liposuction procedures, and he tailors his approach to your unique body and goals.
Your Liposuction Procedure
Liposuction requires a series of small incisions near the targeted area. These incisions heal into very discreet scars. Although Dr. Ukani offers several different types of liposuction, most procedures follow a similar path. Depending on the area of the body being addressed and the amount of fat being removed, you may be under local or general anesthesia.
After making very small incisions, Dr. Ukani uses a thin, hollow tube called a cannula to loosen fat. In power-assisted liposuction, or PAL, the cannula vibrates to help expedite this stage. In ultrasound-assisted liposuction, or UAL, ultrasound waves loosen and liquefy fat to make it easier to remove. Once the fat has been sufficiently loosened and broken apart, Dr. Ukani suctions it out of the body.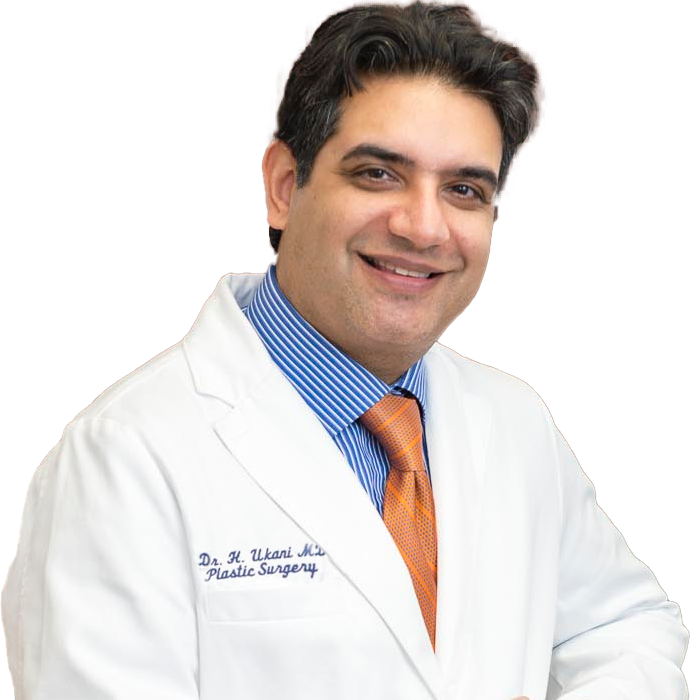 Dr. H. Ukani
Dr. H. Ukani's extensive education and years of practical experience make him one of the foremost plastic surgeons in the Vancouver area. His ongoing training keeps him at the leading edge of both cosmetic and reconstructive plastic surgery, and he looks forward to helping you fulfill your aesthetic goals.
Credentials You Can Trust

Do I Need Liposuction or a Tummy Tuck?
Dr. Ukani offers an array of options for improving your body's curves. Depending on the area you'd like to treat, it can be difficult to decide which option is best for you. Review the table to compare your choices at a glance.
| | Liposuction | Tummy Tuck |
| --- | --- | --- |
| Treatment areas | Fat deposits throughout the face and body | Abdomen |
| Does it reduce fat or tighten skin? | Reduces fat deposits | Tightens skin and muscles; can reduce fat with selective liposuction |
| Recuperation timeline | At least 1 week away from work, longer for vigorous physical activity | Between 4 to 6 weeks away from work, longer for vigorous physical activity |
| Scars | Short, small scars on treatment area | Horizontal scar placed low on the abdomen |
| Longevity of results | Long-lasting with good lifestyle habits | Long-lasting with good lifestyle habits |
Your Liposuction Recovery
Dr. Ukani recommends that most Vancouver-area liposuction patients take at least 1 week off from work. Although recovery following liposuction is not generally painful, spending time off your feet allows swelling and bruising to diminish. Discomfort is manageable with prescribed medication.
During your consultation, Dr. Ukani provides you with specific guidelines for your recovery based on the body parts involved as well as the type of liposuction performed. Patients should avoid strenuous activity that raises blood pressure for several weeks following the procedure.
Although the fat cells that are removed during liposuction will not return, remaining fat cells may still enlarge if you gain weight. If you live a healthy lifestyle and maintain a steady weight, the results of your liposuction procedure can last for many years.
Liposuction FAQ
How much does liposuction cost?
The cost of each liposuction procedure is based on the significance of the procedure. After your consultation, we offer you a personalized, written quote that lays out how much you can expect to pay for your procedure.
Who should not have liposuction?
Liposuction is a wonderful solution for unwanted fat, but it's not a perfect fit for everyone. Dr. Ukani stresses that liposuction is not a solution for people who are significantly overweight, as it's not intended to remove large volumes of fat throughout the body. Additionally, people with certain medical conditions, such as a bleeding disorder, may not be good candidates for the surgery.
Will liposuction leave me with loose skin?
Ideally, no. Dr. Ukani will evaluate your skin tone to ensure your skin is resilient enough to "bounce back" after liposuction. The procedure is best for patients who have generally good skin tone, so it's unlikely that patients who are deemed good candidates for surgery will be bothered by loose skin after liposuction.