Dr. H. Ukani
201-2502 St Johns Street
Port Moody, BC V3H 2B4
Phone: (604) 931-1893
Monday-Thursday 9 a.m.–4 p.m.Friday 9 a.m.–12 p.m.

Mommy Makeover
Having a child is one of life's great milestones. But many mothers know all too well how this exciting event can leave their bodies significantly altered. Mommy makeover patients from Coquitlam, Surrey, and Burnaby come to our Port Moody practice to regain their confidence and restore their bodies after childbirth. Discover how the innovative and customizable mommy makeover is so much more than a one-size-fits-all surgery.
Are You a Candidate?
The concept of a mommy makeover is based on customizability. The procedure—which is actually a series of procedures performed at the same time—is tailored to each patient's specific needs. A typical mommy makeover includes some sort of breast enhancement and a tummy tuck, but you can select from different procedures to meet your personal aesthetic goals. You may be a mommy makeover candidate if you:
Are bothered by changes to your body after childbirth or as the result of aging
Are healthy enough to undergo surgery
Have realistic goals and expectations for surgery
Are willing and able to properly care for yourself after surgery
During your consultation you can discuss your goals and concerns with Dr. Ukani, so he can properly evaluate your candidacy for surgery.
Your Mommy Makeover Options
"Mommy makeover" is not a regulated term. At our practice, we use the term to describe any surgery that includes more than 1 procedure. While most mommy makeover patients want to improve their bodies after pregnancy, others are bothered by signs of aging. Typically, a mommy makeover includes at least 2 of the following:
Breast enhancement: The breasts can be subject to significant changes as the result of pregnancy and breastfeeding. Some women are left with breasts that are significantly smaller than they were before pregnancy. This makes breast augmentation one of the most popular options for mommy makeover. Breast lift and breast reduction can also help.
Body contouring: Tummy tuck reduces excess skin on the abdomen as well as tightens weakened abdominal muscles. Both symptoms are common after pregnancy. The addition of selective liposuction can help further refine the abdominal area.
Facial rejuvenation: While not directly related to pregnancy, age-related facial changes can be distressing. Some women choose to add a conservative touch-up to their mommy makeover.
While a mommy makeover is very customizable, it isn't a completely limitless procedure. Dr. Ukani prefers not to keep any patient under general anesthesia for more than 4 hours. If you want to undergo a more extensive transformation, you may be better served by a series of surgeries. Dr. Ukani can help you determine the approach that's safest for you.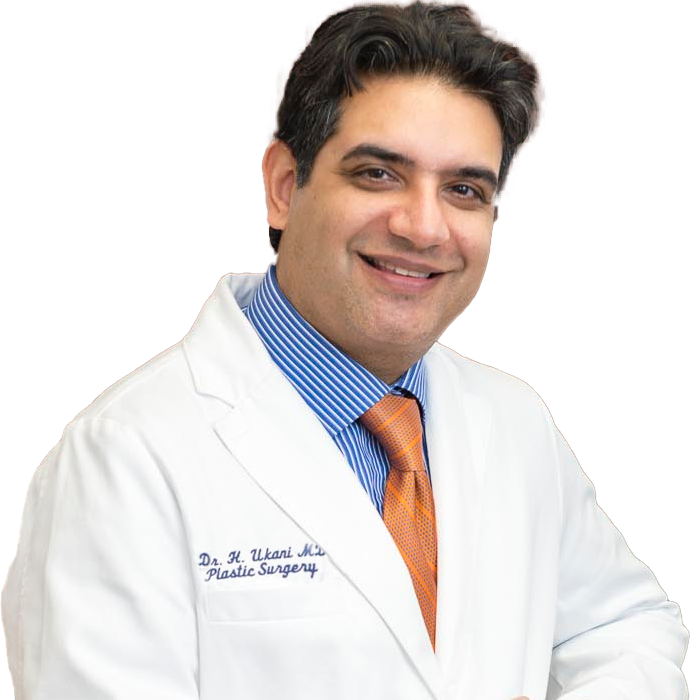 Dr. H. Ukani
Dr. H. Ukani's extensive education and years of practical experience make him one of the foremost plastic surgeons in the Vancouver area. His ongoing training keeps him at the leading edge of both cosmetic and reconstructive plastic surgery, and he looks forward to helping you fulfill your aesthetic goals.
Credentials You Can Trust

Your Mommy Makeover
Dr. Ukani performs your surgery while you are under general anesthesia. Your surgical plan depends on the individual procedures included in your mommy makeover. During your consultation and pre-op appointment, Dr. Ukani guides you through your procedure. He also provides you with instructions for caring for yourself both before and after surgery.
Benefits of Combining Procedures
For the right candidates, having multiple procedures done within one surgery offers a number of benefits:
Cost: Combined procedures typically cost less than separate surgeries because they only require one set of associated fees, such as anesthesia fees, facility fees, and surgical staff fees.
Recovery: By recovering from multiple procedures at the same time, you'll reduce your total downtime by up to several weeks.
Safety: Because we keep patients under general anesthesia for only 4 hours or less, there is not an increased safety risk when performing more than one procedure.
Results: Combining procedures allows you to achieve comprehensive results. For example, combining a breast augmentation with a tummy tuck creates a full-body transformation.
Dr. Ukani will work closely with you to determine whether a combined procedure is the best approach for your goals.
Your Recovery
Recuperation after mommy makeover depends on your surgery's specific procedures. Although each patient—and each experience—is different, you should plan to take about 4 to 6 weeks away from work and other similar activities. While you're at home, you can make the most of your recuperation by getting up and moving throughout the day. Light walking can make you more comfortable and improve the healing process.
If you work a more physically demanding job, you may need to take more time away from work. You'll also need more time before resuming exercise and other strenuous activities.
Maintaining your weight and sticking to healthy habits can help you enjoy your results for as long as possible. In fact, your results have the potential to last indefinitely if you closely follow Dr. Ukani's post-op instructions and avoid any significant weight fluctuations.
When you're ready to learn more about how to achieve your most beautiful outcome, please request your consultation online or call us at (604) 931-1893.