Dr. H. Ukani
201-2502 St Johns Street
Port Moody, BC V3H 2B4
Phone: (604) 931-1893
Monday-Thursday 9 a.m.–4 p.m.Friday 9 a.m.–12 p.m.

Breast Reconstruction
Breast cancer can turn a woman's world upside-down and diminish her sense of confidence and femininity. Although the decision to undergo breast reconstruction surgery with Vancouver-area plastic surgeon Dr. H. Ukani is a personal one, it's often one of the most rewarding choices for both doctor and patient. Dr. Ukani understands the complex emotions that accompany a breast cancer diagnosis, and he's made it his mission to approach each reconstruction patient with sensitivity, care, and an open mind.
If you'd like to learn more about how breast reconstruction surgery with Dr. Ukani can help you regain a sense of normalcy and comfort, request a consultation using our online form, or give the office a call at (604) 931-1893.
Are You a Candidate?
Your candidacy for breast reconstruction is dependent on many factors, including your overall health, type of cancer, treatment plan, and more. If Dr. Ukani determines that surgical breast reconstruction is a good match for you, he works closely with your oncologist, surgeon, and other members of your medical team to ensure that the surgery is safe and effective and doesn't interfere with your cancer treatment.
Breast reconstruction can be performed at the same time as mastectomy (called immediate reconstruction), or at a later date (called delayed reconstruction). A delayed procedure is sometimes necessary if a woman is still undergoing cancer treatment. Dr. Ukani helps you decide which choice is better suited for your unique situation.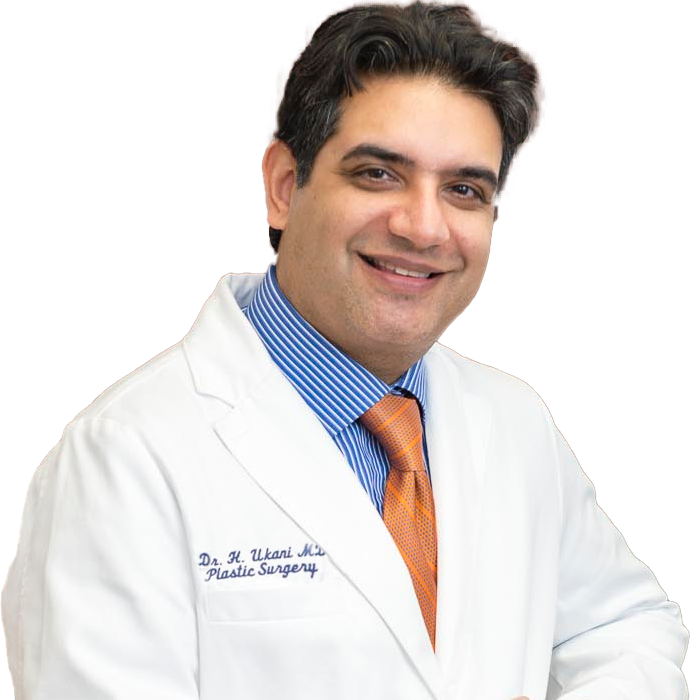 Dr. H. Ukani
Dr. H. Ukani's extensive education and years of practical experience make him one of the foremost plastic surgeons in the Vancouver area. His ongoing training keeps him at the leading edge of both cosmetic and reconstructive plastic surgery, and he looks forward to helping you fulfill your aesthetic goals.
Credentials You Can Trust

Your Breast Reconstruction Procedure
There are many different options for each breast reconstruction procedure, and Dr. Ukani guides you through the decision-making process during your consultation.
Many patients opt for reconstruction with breast implants in Vancouver, while others may find that reconstruction using their own tissue (usually transplanted from another part of the body, such as the abdomen) provides a more natural look and feel. Each approach has its own set of pros and cons, and there is no "one size fits all" method for this highly customized surgery. In cases where only one breast is affected, the healthy breast may also be operated on to maintain symmetry.
Reconstructive procedures are usually performed as a series of several surgeries to ensure the safest and most ideal result. Prior to your first surgery, Dr. Ukani discusses his approach in detail, explaining what you can expect and how it affects your cancer treatment.
Your Recovery
Surgical breast reconstruction often requires a hospital stay for at least 2 days. The affected breast is wrapped and bandaged, and surgical drains may be placed to reduce fluid buildup. These drains are removed after several days.
Activity restrictions following breast reconstructive surgery are typically a bit more involved than those after breast augmentation or other breast enhancement procedures. The breasts must remain supported with a surgical bra, and strenuous activities, especially those that require the use of the upper body, should be avoided for several weeks. Further restrictions may be necessary if your surgery included transplanting tissue from another area of your body. Dr. Ukani provides you with a detailed account of your specific recuperation process. He works hard to ensure that each patient is fully informed prior to beginning surgical reconstruction.
When performed by a highly experienced plastic surgeon such as Dr. Ukani, the results of breast reconstruction can restore hope, confidence, and well-being to women affected by breast cancer.